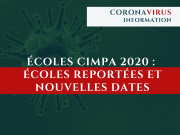 23 CIMPA Schools have been reported following the spread of the Coronavirus (Covid-19).
Here is the list of schools reported, we will update it if other announcements are announced. Some have already set new dates.
This article and each school page will be updated as the information becomes available, so be sure to visit them regularly.