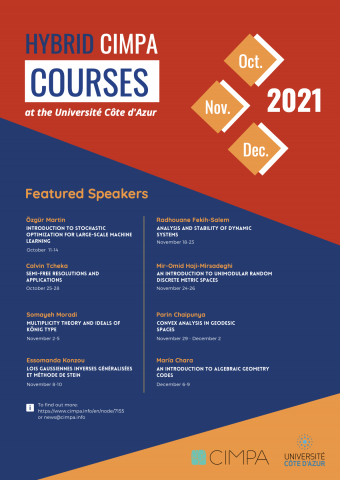 For 3 months, CIMPA will host, for the first time, the laureates of the "Research in Pairs" programme, who will come one after the other to record a course at the CIMPA premises.
The Research in Pairs programme gives mathematics researchers based in a developing country the opportunity to come to Europe to collaborate with a colleague for a period of at least 6 weeks. During this period, the two people are expected to work together on a well-substantiated research project, mainly at the European colleague's institution.
The laureates are also invited to come to CIMPA, on the campus of Université Côte d'Azur, during their stay, in order to record/broadcast a mini-course on the mathematics related to their research theme.
Due to the current health situation, some dates may change. Please check this page regularly, as it will be updated whenever there are changes.
Programme:
All the courses will be available on our YouTube channel and on carmin.tv.
You can also participate online by writing to us at news@cimpa.info.
Özgür Martin
Introduction to Stochastic Optimization for Large-Scale Machine Learning
October 11-14, 2021 - from 2pm to 4pm (Paris time)
Abstract
Calvin Tcheka
Semi-Free Resolutions and Applications
October 25-28, 2021 - from 2pm to 4pm (Paris time)
Abstract
Somayeh Moradi
Multiplicity Theory and Ideals of König Type
November 2 - From 2pm to 4pm (Paris time)
November 3 - From 10am to 12am (Paris time)
November 4 - From 2pm to 4pm (Paris time)
November 5 - From 2pm to 4pm (Paris time)
Essomanda Konzou
Lois gaussiennes inverses généralisées et méthode de Stein
November 8 - From 1.30 to 4.30 pm (Paris time)
November 9 - From 1.30 to 4.30 pm (Paris time)
November 10 - From 10am to 12am (Paris time)
Radhouane Fekih-Salem
Systèmes dynamiques : analyse et stabilité
Thursday 18 November - From 2pm to 4pm (Paris time)
Friday 19 November - From 2pm to 4pm (Paris time)
Monday 22 November - From 2pm to 4pm (Paris time)
Tuesday 23 November - From 2pm to 4pm (Paris time)
CANCELED - Mir-Omid Haji-Mirsadeghi
An Introduction to Unimodular Random Discrete Metric Spaces
November 24-26, 2021
Abstract
Parin Chaipunya
Convex Analysis in Geodesic Spaces
Monday 29 November - From 2pm to 4pm (Paris time)
Tuesday 30 November - From 2pm to 4pm (Paris time)
Wednesday 1 December - From 2pm to 4pm (Paris time)
Thursday 2 November - From 2pm to 4pm (Paris time)
María Chara
An Introduction to Algebraic Geometry Codes
Monday 6 December - From 2pm to 4pm (Paris time)
Tuesday 7 December - From 2pm to 4pm (Paris time)
Wednesday 8 December - From 10am to 12am (Paris time)
Thursday 9 December - From 2pm to 4pm (Paris time)