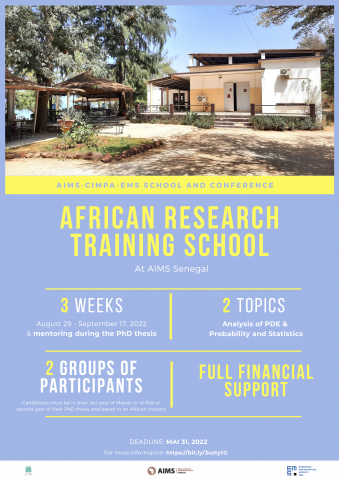 The African Research Training School
From August 29 to September 17, 2022
At AIMS Senegal
The idea of this new project is to train finishing-Master and PhD students from Africa during a two weeks school followed by a short conference. The instructors will not only reinforce the knowledge of the participants in some topics important for their PhD project through lectures, tutorials and working groups, but will also offer mentoring during the following years . There will be two topics: Analysis of PDE and Probability and Statistics. Each group will have few participants (~10) so the event will have a strong human component: through their active and stimulated participation, the students will work in groups, start their network, and have many informal scientific interactions with the professors.
Deadline for application: Mai 31, 2022.
The financial support covers the travel and accommodation of the laureates during the three weeks.
For more information, click here.