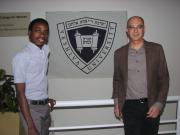 Good news! One of the students from the CIMPA school that took place in Benin in 2018 has been accepted on the PhD programme at Yeshiva University in New York City.
Samuel Wale Akingbade began the programme in January 2020. He is studying under the supervision of Marian Gidea, Professor and Chair of Mathematics at Yeshiva University.
Find out the interview of Samuel Wale Akingbade and Marian Gidea.